A search box recommendation service
dedicated to the improvement of usability and CVR

Displaying recommended products that match a user's needs at the same time as when providing input assistance.
A highly functional suggestion service that supports limited sales and feature pages.
You can install it simply by attaching a tag.
Improving usability and CVR of EC sites and information sites

MARS EXPLORER is an advanced auto-suggest service that specializes in improving the usability and CVR of e-commerce sites. While assisting user text input, MARS EXPLORER also displays recommended product images in the search box to encourage purchases.
MARS EXPLORER can be installed simply by pasting a tag. It reduces user input errors, generates interest and actively guides users to products. It also prevents loss of users due to empty search results and reduces user disengagement due to lack of information. The era of simple input assistance has already ended. From now on, MARS EXPLORER will become your store's number one salesperson.
What is auto-suggest?

Auto-suggest is a function that assists with search box input. It predicts words and phrases from the entered text and gives users a selection of choices. This has become an indispensable function for websites as it simplifies text input and improves user experiences in mobile environments, etc.
FEATURES

Features of MARS EXPLORER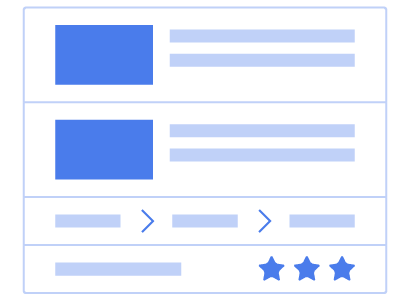 Cover all data. It displays recommended products that match a user's needs.

MARS EXPLORER is not simply an input assistance solution. Rather, it is an advanced auto-suggest service specially designed for e-commerce sites that provides recommendations matching search terms entered by users, based on all kinds of information. MARS EXPLORER enables input assistance based on multiple data sources and comprehensive shopping guidance through the display of recommendations. It actively guides users to products by accurately gauging their needs from entered text, providing guidance, and stimulating interest.
Improve search usability

Provide seamless search experiences by visually showing product names, images, and categories in real-time.

Increase sales

Guide users directly to their desired products, and increase purchases by reducing blank search results and user disengagement.

Handle long-tail demands

Every performed search strengthens search accuracy. Long-tail keywords can also help in providing perfect product recommendations.
Tailor you display

Aside from auto-suggest, MARS EXPLORER allows you to tailor your own recommendation box. Eye-catching UI with matching product recommendations stimulates users' interest. You can freely show photos and reviews at the same time, and sell your productions effectively.
Appealing Recommendations

Show Photos and Reviews

Effective Sales Promotion
Complete installation simply by pasting a tag

Search Box Recommendations Display Service MARS EXPLORER can easily be installed simply by adding a tag to your webpage. There is no need for large-scale website overhaul in order to establish new lines of guiding information that will dramatically change the flow of users. Take action right now to dramatically improve your lines of information leading to products.

Flexible guidance control

In addition to improving the usability of searches and text input, MARS EXPLORER also has a wealth of functions to firmly guide users and improve CVR.
FUNCTIONS
For service inquiries, click here.
For other inquiries, click here.
Search Box Recommendation MARS EXPLORER